Advertising Opportunities
The Indianapolis Medical Society offers a variety of advertising opportunities.  Check out how you can advertise with us below.
Advertise in our Bulletin
The IMS offers advertising in our monthly Bulletin.  Ads run on a monthly basis.  They are printed in our monthly Bulletin and posted on our website.  We also offer complimentary direct links to your website from our online posting and social medial exposure with your print package in the upcoming advertising year.  You may commit to one month or many and we offer several discounts including a yearly contract discount and IMS member discounts.  Advertising art can be changed each and every month without incurring additional setup charges.  For more information, please contact Morgan Perrill, editor, at mperrill@indymedicalsociety.org or click on the link contained below.  We look forward to working with you!
We are always looking for organizations or groups to partner with on benefits for our members.  If you are interested in setting up a sponsorship or membership benefit for the physicians of the Indianapolis Medical Society, please complete the form below and submit it to us.  We will respond to you as quickly as possible.  We look forward to hearing from you.
Check out the Indianapolis Medical Society's media kit to learn more about the opportunities available to promote your organization or business within the medical community.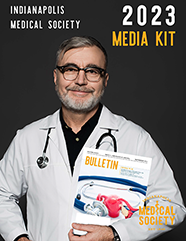 IMS Members can receive up to a 15% discount on each advertisement